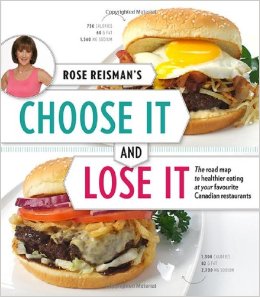 The Road Map to Healthier Eating at Your Favourite Restaurants
We all want to eat well, cut calories and keep ourselves and our families happy and healthy. But with all our commitments and claims on our time—work, school, hobbies, commuting and ferrying our kids totheir extracurricular activities—we don't always have time for home-cooked meals. Fast food—whether it's from our favourite "fun night out" restaurant or the "on the way to work" coffee shop—is a reality of our busy lives. But there's no reason it has to be a high-calorie or unhealthy reality.
Healthier choices can be made at fast-food restaurants. When we're at A&W's, how many of us know to choose a Mamaburger over a Mozzaburger? At Panago's, a Quattro Cheese on Multigrain Thin Crust pizza over a Primo Vegetarian Hand Tossed pizza? At Starbucks, a Butter Croissant over a Blueberry Scone? At all three of these restaurants, the first option is—surprisingly—the healthier one!
Rose Reisman's Choose It and Lose It sets out a selection of the healthier choices for these restaurants and 62 others—Canada's most popular ones—with clear explanations of what makes Rose's choices better. She includes guidance on how to judge ingredients and levels of saturated fats in meals and understand how these contribute to calorie counts and nutritional values.
The illustrated, easy-to-use, small-format of this book makes it a handy reference guide for those who want to learn how to deconstruct a restaurant meal at a glance and make the healthy choice every time.
| | | |
| --- | --- | --- |
| Buy Family Favourites today! | | |