A new year means New Year's resolutions of focusing on healthy eating after indulging over the holidays.
Many foods make mention of the addition of nutritious items like veggies, quinoa and vitamins, but does that make them healthy? Not the case. It's key to check the ingredient list to see what items are listed first, and the nutrition label to check out the calories, fat, sugar and fibre.
Watch Rose tackle unhealthy 'health' foods on Breakfast Television here.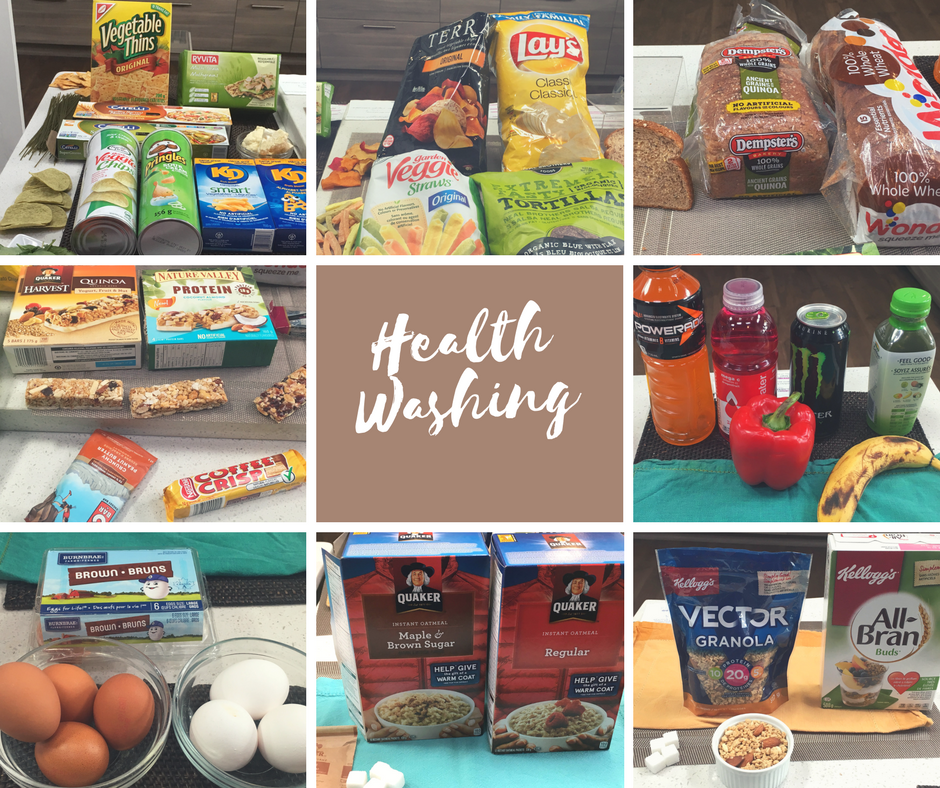 'Veggie' Products

Most of the vegetables added to products are dehydrated vegetable powders.
These are processed with little fibre – it doesn't count as a vegetable serving.
Veggie chips come out nutritionally identical to sour cream and onion chips.
'Smart' Kraft dinner contains freeze dried cauliflower – making it almost identical to the regular stuff, only with 1 gram more fibre. Add 1 cup of your own cauliflower and you'll get 4 grams!
Super Green Spaghetti has dehydrated spinach/zucchini, broccoli, kale and less fibre and protein than whole wheat pasta. Go for whole wheat and add your own veggies.
Veggie Crackers actually have 0g of fibre and the second ingredient is modified palm oil. Go for Whole grain crackers.
Veggie Straws have more sodium, less fibre, less protein, less calcium, iron than tortilla chips.
Terra chips stack up similarly to potato chips.
Spinach Tortilla has more calories, 4 times the fat, 2 times the sodium and ½ fibre when compared to a whole wheat tortilla.

Ancient Grains

Quinoa Bread has quinoa as the 8th ingredient. If you want quinoa, eat quinoa! For bread, a 100% whole grain bread is the better bet.
Quinoa yogurt and granola bars – many contain sugar and modified palm oil. For a healthier bar try KIND, which is low sodium and has fewer additives. Otherwise stick to the real stuff of quinoa, fruit and nuts.

Beverages

For hydration, go for water and for vitamins and minerals, go for eating the real stuff – fruits and vegetables. Energy drinks and vitamin waters contain caffeine, sugar (10 tsp in some), fructose, glucose, and sweeteners. The electrolytes lost during exercise will be replenished once you eat your next meal.
Brown Eggs are not healthier – just larger and cost more money than regular eggs.
Look out for flavourings in instant oatmeal, like maple and brown sugar; sugar is the second ingredient and it has more calories, 200 mg of sodium and 14g (4 tsp) of sugar, versus 0 g of sugar and 0 mg of sodium in regular oatmeal.
Store-bought granola is higher in calories, fat, sugar and sodium than many regular cereals.
Gluten-free baked goods are not low calorie or healthy. They uses fat and sugars to make up for taste and texture and less nutritious flours. If you don't have Celiac disease or a gluten sensitivity, there's no need to pick up these items.
Smart Food White Cheddar Popcorn has 2 times the calories and sodium, 16 times the fat, as well as added oil, cheese and salt when compared to regular popcorn.
Smoked ham, even though labeled Natural Selections, has 600 mg of sodium and celery extract, a form of nitrates. Opt for oven roasted!