Celebrate Hanukkah, the festival of lights, with my healthy Hanukkah recipes. I've rounded up easy and light Hanukkah recipes and ideas below: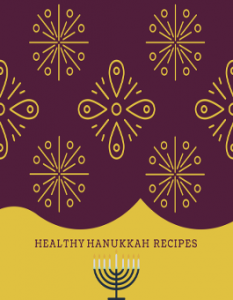 Light Latkes
Yes, you can make latkes lighter! Try my Three Root Vegetable Latkes recipe. You can make latkes savory or sweet with endless combinations of toppings including:
Sour cream, caviar and chives
Cream cheese and smoked salmon
Chunky apple sauce
Roasted red peppers and goat cheese
Sunny side up eggs
Caramelized onions
Guacamole and tomatoes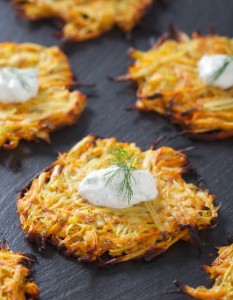 Apricot Jam Cranberry Rugelach
Rugelach is a divine dessert, but traditionally loaded with fat, as it is crisp and buttery. My light Apricot Jam Cranberry recipe still gives you a mix of a flaky crust and creamy inside, but with less fat!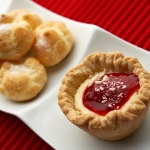 Kid-Friendly Hanukkah Dessert Ideas
Apricot gelt, marshmallow dreidels, Rice Krispy stars and more! I've got a segment full of colourful and creative desserts to make for Hanukkah that kids will love! Try my kid-friendly Hanukkah dessert ideas here!