Do the combos of your cravings ever seem crazy? Salty and sweet go so well together, even if mixing them seems out there. Check out these unique food combinations that actually work on Breakfast Television here.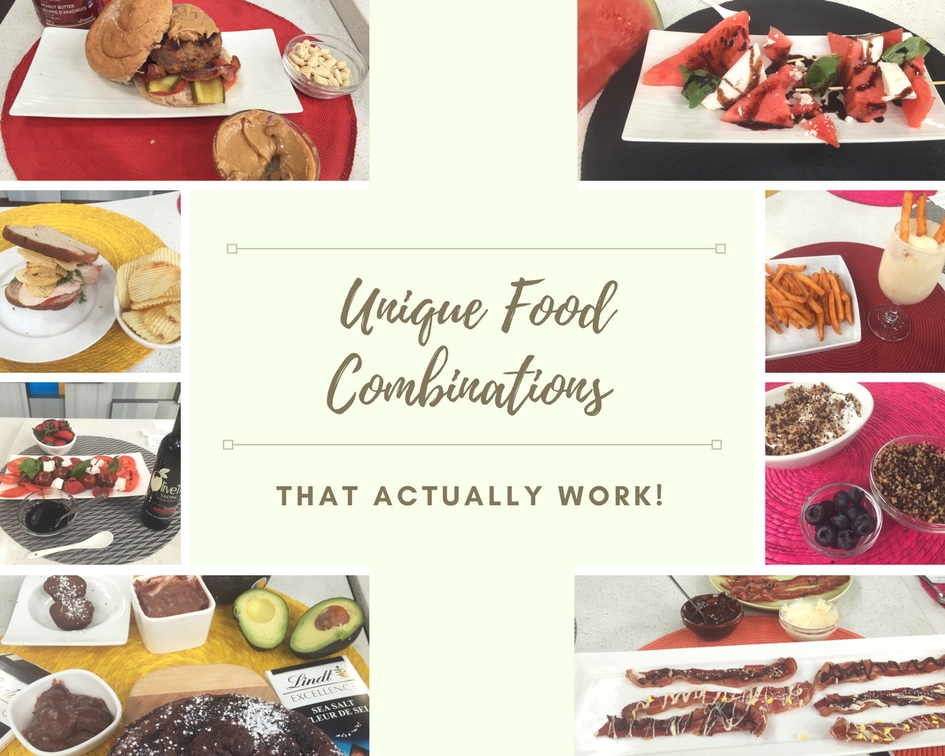 Sweet and salty taste so good together and craving them isn't crazy – the two ingredients work better than you think. Salt enhances the flavour of foods and sweet foods tend to be more energy-rich. Are you brave enough to try them out?
1.Hamburgers and Peanut Butter
You've had peanut sauces on meat stir-fries, Thai food and satays, so adding peanut butter to a burger isn't that much of a stretch.
The nutty, salty taste of the peanut butter enhances the meatiness of the beef and takes the place of cheese, ketchup and mustard.
The pickle and bacon are necessary sidekicks for cutting through the creamy PB.
You can also try different nut butters.
2.Balsamic Vinegar and Strawberries
Ripe strawberries make the ideal match for rich, syrupy and tart/sweet aged balsamic vinegar.
Aged balsamic is best, but you can make your own by mixing brown sugar with balsamic vinegar and simmering until reduced.
Also, add sliced strawberries added to a Caprese salad for a sweet mix of flavours.
3.Quinoa and Yogurt
Swap sugary granola, which is also high in fat and calories, for cooked whole grain quinoa in your morning yogurt.
It'll give you a crunch with a ton of fibre, iron and protein and none of the sugar or fat.
4.Avocado and Chocolate
Add avocado to make chocolate pudding, mousse, cakes and brownies
Avocado has a mild flavour and it takes on all the goodness of chocolate, but makes it even creamier.
As a healthy fat, avocado can replace some of the oil, butter, shortening or cream in puddings, mousses and brownies.
1:1 avocado for butter, shortening
5.Pure Olive Oil, Ice Cream & Sea Salt
Elevate your plain vanilla ice cream or frozen yogurt with a drizzle of EVOO!
The grassiness and fruitiness of extra virgin olive oil with the delicate brininess of the sea salt flakes brings out the flavour of the vanilla and adds a wonderful, rich subtleness to the ice cream.
6.Chocolate and Bacon
Crisp and salty bacon and sweet, rich dark chocolate – a pairing to die for!
Try it as: chocolate bars with bacon, chocolate-covered bacon, bacon brittle covered in chocolate, enrobed bacon caramels.
7.Watermelon and Feta
Feta is creamy, dense and salty, whereas watermelon is watery, sweet and crunchy, making them mix together so well.
8.Potato Chips and Sandwiches
Adds salt, flavour and crunch – the more textures the better in your sandwich
You're eating them with the sandwich anyway, so it's not a stretch to put in the sandwich.
9.French Fries and Ice Cream/Milkshakes
Ice cream and starches have hung out together for ages (think cake and ice cream).
Add a little salt and you've got the combo of crispy, sweet, and salty.
10.Prosciutto and various fruits
Really fatty foods leave your mouth feeling fatty, which is unpleasant.
Naturally acidic food cuts through the greasy feel, making a balanced taste.