It's official everyone is crazy about bacon. You can find bacon anything including lipstick, Baconnaise, band-aids and even candles. The Bacon craze started in the States and has made it's way to Canada, we are a Bacon Nation!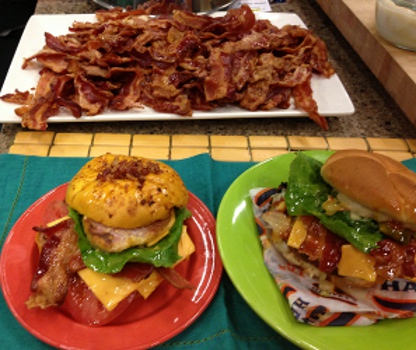 All Bacon Canuck Burger –  A ground bacon patty with bacon strips,
peameal bacon, bacon mayo, cheese and a bacon bun.
1330 cal / 94 gm fat
*Equivalent to 80 pieces cooked bacon in FAT ( 4 packages)*
Vs
Harvey bacon cheeseburger
500 cal / 26 gm fat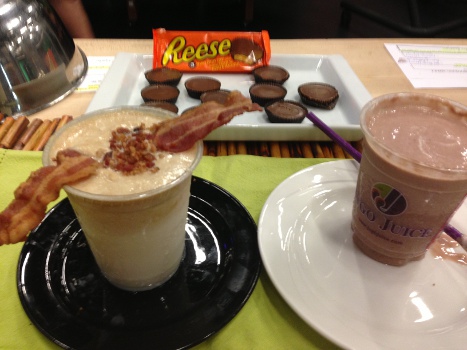 Peanut butter and bacon milkshake  – Peanut butter, ice cream, strips of bacon
700 cal / 47 gm fat
*Equivalent to 10 Reeses peanut butter cups in FAT*
Vs
Jugo Juice – PB & chocolate smoothie – Frozen yogourt and chocolate milk
273 cal  / 5 gm fat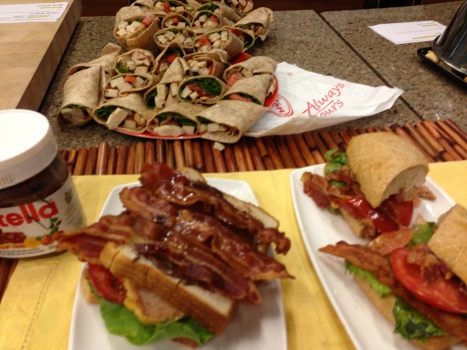 Nutella BBBLT – BLT sandwich with 2 pieces peameal bacon, 8 strips bacon, lettuce, tomato and nutella
1100 cal / 68 gm fat
*Equivalent to 15 bbq chicken wrap snackers from Tim Hortons in FAT*
Vs
BLT Tim Hortons
400 cal / 18 gm fat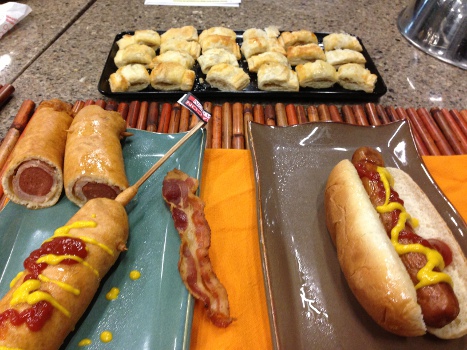 Deep Fried Hot Dog wrapped in Bacon
624 cal / 53 gm fat
*Equivalent to 22 bite size sausage rolls from M&M's in CALORIES*
Vs
Hot dog on bun
250 cal / 13 gm fat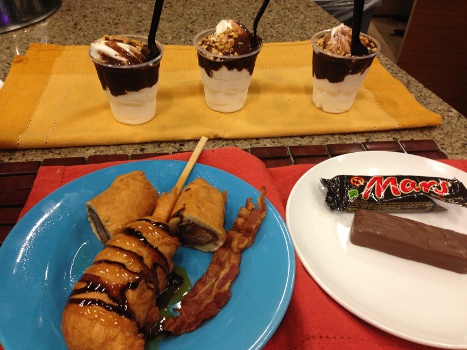 Deep fried Mars bar wrapped in Bacon
575 cal / 33 gm fat
*Equivalent to 3 hot fudge sundaes in FAT*
VS
Mars Bar
234 cal / 11 gm fat