Back to school is just around the corner! Come fall, we return to our busy schedules. We're in need of quick, easy, and most importantly, healthy meal options. Check out my segment and recipes on CanadaAM featuring heart-healthy Becel here!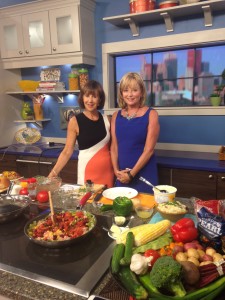 Recipe: Turkey, Corn and Bean Chili
Serves 6
1 Tbsp Becel® Buttery Taste margarine
1 ½ cup diced onion,
1 cup diced green bell pepper
1 lb. lean ground turkey
2 tsp minced garlic
1 can red kidney beans, rinsed and drained
1 can diced tomatoes, undrained
1 cup canned or frozen whole kernel corn
1 jalapeno pepper, chopped (without seeds)
2 tsp chili powder
Garnish
1/2 cup fat-free sour cream
1/2 cup shredded low fat cheddar cheese
¼ cup green onions
2 Tbsp chopped cilantro
Preparation:
Melt margarine in large nonstick skillet over medium-high heat. Cook onion and green pepper, stirring occasionally until tender, about 5 minutes. Add ground turkey, stirring occasionally until done, about 5 minutes.
Stir in beans, tomatoes, corn, jalapeno pepper and chili powder. Reduce heat to low and simmer covered, stirring occasionally until heated through, about 20 minutes.
Serve in either hollowed out dinner roll, over pasta, baked potato or on its own. Serve with garnishes.