With the hot temperatures of summer, it's hard not to turn to the cool taste of an ice cream treat or icy beverage. These days, it seems like the bigger and crazier the concoctions, the better! Ice cream shops are offering every topping you could think of, and are cramming ice cream between cookies, macarons, pop tarts and more! A sweet tooth's dream but a nutritional nightmare.
For example, Toronto's immensely popular ice cream shop Bang Bang's ice cream sandwiches are pure deliciousness – and indulgence. Their 'everything' cookies with peanut butter & jelly and banana ice pudding ice cream flavours combine to come to 801 calories and over 45 grams of fat!
I've shown you which frozen beverages & treats to choose and lose over the years. Moderation is always key and you can make smarter choices when giving in to your sweet tooth! My advice? Avoid treats from the ice cream truck and opt for homemade smoothies and frozen yogurt. I've even got a recipe for an ice cream sandwich you can make at home. Check it out!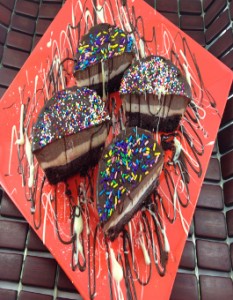 Rose's Brownie and Frozen Yogurt Cakes
Makes 12 half servings.
Brownies:
2/3 cup granulated sugar
¼ cup vegetable oil
1 egg
1 tsp pure vanilla extract
1/3 cup unsweetened cocoa powder
1/3 cup all-purpose flour
1 tsp baking powder
¼ cup low-fat yogurt or sour cream
¼ cup semi-sweet chocolate chips
1 ½ cup vanilla frozen yogurt, softened
1 ½ cup chocolate frozen yogurt, softened
Chocolate Glaze:
½ cup semi sweet chocolate chips
½ cup 2% evaporated milk
Preheat oven to 350 F. Spray a large 6 cup muffin tin with vegetable oil. Combine sugar, oil, egg, vanilla and cocoa powder and mix until smooth. Add flour, baking powder, yogurt and chips and mix just until combined, don't overmix. Divide into large muffin tin and bake for 12 minutes or just until no longer wet. Cool. Place ¼ cup softened frozen vanilla frozen yogurt on top of muffin along with ¼ cup chocolate frozen yogurt.
Melt chocolate and evaporated milk on High for approx. 30 seconds. Whisk until smooth. Cool. (If too thick, add more evaporated milk.) Pour over top frozen yogurt. Top with coloured sprinkles. Freeze until serving.
With a wet knife, gently remove brownies from tray. Slice in half.
Nutritional Information per ½ Serving
Calories 190
Protein 2.3 g
Fat 7.5g
Saturated Fat 1.5 g
Carbohydrates 20 g
Cholesterol 19 mg
Fiber 1.2 g